Jurassic World: Dominion Dominates Fandom Wikis - The Loop
Play Sound
Deutsche Tourenwagen Masters
Series Information
Official Name
Deutsche Tourenwagen Masters
Announced
2000
Based
Stuttgart, Germany
Inaugural Season
2000

No. Races

251 (20 in 2020)

Supports

DTM Trophy
W Series Championship


Porsche Carrera Cup Germany




DMV GTC

Current Season

Drivers Champion

René Rast
Constructors
Audi


BMW

Manufacturers
Audi


BMW

Tyres

Hankook
The Deutsche Tourenwagen Masters, more commonly known as the DTM, is a touring car series that currently features cars from Audi and BMW. Organised by the DMSB, the DTM is the top racing series in Germany, although the series has consistently spread across Europe, with races in Austria, Britain and Spain, as well as other countries.
Previously, Mercedes-Benz entered the DTM between 2000 and 2018, and were the Series' most successful manufacturer. Opel and Aston Martin were also manufacturers represented in the series, the former competing between 2000 and 2005, and the latter solely in 2019.
History
[
]
The DTM has been existence, in two different forms, since 1984, and has almost exclusively featured cars built in Germany.[1] After initially ending in 1996, the DTM was reformed in 2000, and saw V8 engined Coupes do battle around several German tracks.[1] In total, there have been 414 races, featuring 397 drivers from 42 nations since 1984.[1]
Deutsche Tourenwagen Meisterschaft
[
]
For more information, head to the Deutsche Tourenwagen Meisterschaft article.
Originally founded as the Deutschen Produktionswagen Meisterschaft (German Production Car Championship) in 1984, which competed under Group A regulations.[2] A unique scoring system allowed Volker Strycek to take the first ever DTM crown, despite Strycek not winning a race outright.[2] Per Stureson became the first non-German to win the series in 1985, and the first champion of the Turbo era.[1]
Group A regulations were used until 1993, when the more relaxed FIA Class 1 were adopted for 1994.[1] At the end of 1995, however, the DTM became part of the International Touring Car Series, becoming an international competition for the first time.[1] Yet, at the end of 1996, costs caused the series to come to a close, with the DTM becoming lost to history, or so it seemed.[1]
Age of the Coupé
[
]
The DTM, however, returned in the year 2000, setting out to become the equivalent of Formula One for touring cars, renamed as the Deutsche Tourenwagen Masters series.[1] Mercedes-Benz, Audi and Opel were invited to become the manufacturers for the new series, and all agreed to keep costs down.[3] Yet, it was a member of the old pack, Bernd Schneider, who took the first title of the 'New' DTM, having won the final title of the 'Old' DTM.[3]
The AMG-Mercedes CLK-DTM, Abt-Audi TT-R and Opel Astra V8 Coupé were distributed across the field, competing in nine rounds and eighteen 100km (62mi) races.[3] For 2001, a mix of brand new cars and old raced for the first time, with a Qualifying race of 35km (21mi) held before a 100km Championship race.[1] Schneider successfully defended his crown, but would lose it in 2002, as Audi's Laurent Aïello claimed their first title in the new era.[1]
2003 saw another change to the format, with the Championship race changed to become an hour long event, rather than having a set distance.[1] Schneider reclaimed his crown that season, before the Coupés were phased out over 2004.[1]
Total Tourers
[
]
From 2004, more traditional touring cars became the staple of the Championship, with Mercedes introducing the C-Class, Audi the A4 and Opel attempting to push the Vectra to victory.[1] In the year of the "young guns", Mattias Ekström took his first title, having had a year long duel with Gary Paffett and Christijan Albers.[4] In 2005, it would be Paffett who prevailed, before he left to take up his testing role with McLaren.[1]
If 2004 and 2005 had been the years of the future, then 2006 was the year of experience, as Schneider claimed his fifth DTM title, ahead of Audi stalwart Tom Kristensen and Bruno Spengler.[1] 2006 also saw Opel leave the championship, leaving Mercedes and Audi to battle on alone.[1] Ekström claimed a second title in 2007 for Audi becoming the first double DTM champion to have exclusively raced in the 'New' DTM.[1]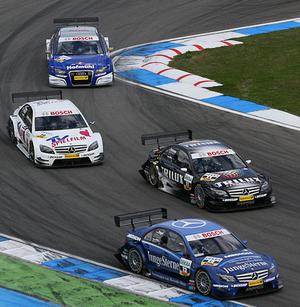 Audi retained their crowns in 2008, as Timo Scheider claimed the first of his two DTM titles that season.[1] It was also to be a year of celebration for Schneider, who finally waved goodbye to the series at the season finale, with Paffett replacing him as Mercedes' lead driver.[1] 2009 saw Scheider successfully defend his title, as Mercedes failed to make serious in roads into Audi's advantage.[1]
Rookies and Renegades
[
]
Paul di Resta became the then youngest DTM Champion in 2010, ending Audi's dominance of the previous three seasons.[1] His efforts earned him a call up to the Force India F1 programme, meaning he did not defend his title in 2011.[1] This allowed Martin Tomczyk to step-up to the challenge, as he claimed his first crown in his eleventh full season in the series.[1] He, however, would abandon Audi at the end of the season, linking up with Spengler (who left Mercedes) at the new kid on the block.[1]
Back in Beemers
[
]
BMW returned to the DTM for the first time in the new era in 2012, bringing eight new BMW M3 DTMs to the series, and World Touring Car Championship legend Andy Priaulx.[1] Spengler duly took the 2012 title for BMW, with Audi introducing the Audi RS5 DTM in 2013 to counter the new pace setters.[1] Mike Rockenfeller showed that it had been a shrewd move by the Ingolstadt squad, as he claimed his first title in 2013.[1]
But, in 2014, BMW were back on top, as Marco Wittmann became the youngest ever DTM Champion, while Pascal Wehrlein wrote himself into the history books as the youngest ever race winner.[1] A partnership with the Super GT Championship in Japan was started that season, while rumours of an American DTM series also headed into an advanced stage.[1] To increase the viewership even further, the DTM opted to introduce a new two race format to the series for 2015, as 24 drivers entered the series.[1]
Champions
[
]
20 different drivers have had their name etched onto the DTM trophy, with most of those having come during the 'New' DTM era.[1] Below is a list of all those who have won the 'Masters' version of the series:
Deutsche Tourenwagen Masters Champions
Year
Drivers
Entrants
Manufacturers
Junior
1984

Deutsche Tourenwagen Meisterschaft

1996

2000
Bernd Schneider

D2 AMG-Mercedes

Mercedes-Benz

*
None
2001
Bernd Schneider

D2 AMG Mercedes

Mercedes-Benz

*
None
2002
Laurent Aïello

Vodafone AMG Mercedes

Mercedes-Benz

*
None
2003
Bernd Schneider

Vodafone / Express-Service AMG-Mercedes

Mercedes-Benz

None
2004
Mattias Ekström

Audi Sport Team Abt Sportsline

Audi
None
2005
Gary Paffett

DaimlerChrysler Bank AMG-Mercedes

Mercedes-Benz

None
2006
Bernd Schneider

Vodafone / Salzgitter AMG Mercedes

Mercedes-Benz

*
None
2007
Mattias Ekström

Audi Sport Team Abt Sportsline

Audi*
None
2008
Timo Scheider

Mercedes-Benz Bank AMG

Audi*
None
2009
Timo Scheider

Salzgitter / Mercedes-Benz Bank AMG

Audi*
None
2010
Paul di Resta

Salzgitter / Mercedes-Benz Bank AMG

Mercedes-Benz

*
None
2011
Martin Tomczyk

Audi Sport Team Abt Sportsline

Audi*
None
2012
Bruno Spengler

BMW Team Schnitzer

BMW

None
2013
Mike Rockenfeller

Audi Sport Team Phoenix

BMW

None
2014
Marco Wittmann

BMW Team RMG

Audi
None
2015
Pascal Wehrlein

gooix/Original-Teile Mercedes-AMG

BMW

None
2016
Marco Wittmann

Audi Sport Team Abt Sportsline

Audi
None
2017
René Rast

Audi Sport Team Rosberg

Audi
None
2018
Gary Paffett

Mercedes-AMG Motorsport Petronas

Mercedes-Benz

None
2019
René Rast

Audi Sport Team Rosberg

Audi
None
2020
René Rast

Audi Sport Team Abt

Audi
None
2021
Maximilian Götz

Red Bull AlphaTauri AF Corse

Mercedes-AMG

Liam Lawson
2022
TBC
TBC
TBC
TBC
* The manufacturers championship was not officially awarded in that season.
Wittmann stands as the youngest ever champion, while Schneider has the most titles at five (four in the new era).[1]
Regulations
[
]
For individual sets of regulations for each season, head to the respective season article.
The most recent set of regulations for the DTM were published shortly before the start of the 2015 season, with the rules split between Sporting and Technical Regulations.[1]
Sporting Regs
[
]
Qualifying in 2015 will see all the drivers attempt to set the fastest time in a 20 minute session, with DRS disabled.[5] The DRS itself sees the entire rear-wing tilt when activated, and may be used three times a lap, provided a driver is one second behind another.[5] Tyres will be provided by Hankook for all teams, while Wet tyres will remained in sealed containers until the race director declares a wet race.[5]
There are also two races in 2015, with a 40 minute race on Saturday, followed by a 60 minute race on Sunday.[5] Qualifying will be held in the morning before each race, with the longer race including a compulsory pitstop.[5] Each race will be scored seperately, using the FIA's official scoring system:
2015 DTM Championship Points Table
1st
2nd
3rd
4th
5th
6th
7th
8th
9th
10th
25
18
15
12
10
8
6
4
2
1
Drivers may also, for the first time, select their own race number, which will stay with them throughout their DTM career.[5] Only #1 cannot be selected (apart from any number above #99), as that number is reserved for the defending champion.[5] Success ballast will also be applied to drivers after they win a race, or based on their Championship position, with 20kg the maximum weight penalty available.[5]
Technical Regs
[
]
The DTM prides itself as being the technical equivalent of Formula One for Touring Cars, and is, in effect, a prototype championship, despite being classed as a silhouette series.[6] Safety is the primary concern for the series, although there is a dedication to ensuring close and competitive racing as well.[6] The full regulations are shown below:
Aerodynamics - All DTM cars are fitted with an adjustable rear wing (between 10 and 30 degrees), with underbody diffusers and a bodykit that may not be modified during the season.
Brakes - Vented carbon fibre disk brakes, pads and callipers, all of which are supplied by

AP

, are fitted to every car, and may be changed three times through the season.
Chassis - An entirely unique chassis forms the basis of the car, and incorporates the rollcage and driver safety cell.
Electronics -

Bosch

provide all electronic equipment to the DTM, including the ECU.
Engine - 4.0 litre V8 engines are the staple of the DTM, which are air restricted to 500bhp.
Gearbox -

Hewland

currently provide a universal, semi-automatic gearbox to the championship, which works with all three manufacturer's engines.
Fuel -

ARAL

are the exclusive fuel supplier to the DTM, meaning no other fuel may be used in a championship race.
Powertrain - All cars are RWD, with the engine mounted at the front.
Safety - All cars feature a roll cage and full crash tested body structure, as well as a removable roof panel to allow easier driver extraction if the doors are unusable.
Weight - The total weight of the car, including driver, must exceed 1,120kg, with performance weight added after the first race, depending on finishing position.
The dimensions of all DTM cars in 2015 are as follows:
Length - 4,650mm (without rear wing)
Width - 1,950mm
Height - 1,150mm
Wheel base - 2750mm
More detailed explanations of the regulations may be found on the DTM Website.
References
[
]
Videos and Images:
References:
Template:DTM